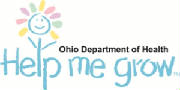 Are you pregnant, expecting your first child?
Are you a first-time parent with a child less than 6 months old?

Does your infant or toddler need extra help in life because of premature birth, health problems, or a diagnosed delay?
Help Me Grow is a Free and Voluntary Wellness Program that is centered on the needs of your family. Help Me Grow is committed to helping your child start school healthy and ready to learn. All services are designed with your family in mind.
Help Me Grow Home Visiting Services:

Y Provide answers to questions about your child's health and well-being
Y Provide support and information about your child's immunizations, nutrition, and development
Y Offer and bring together special services such as prenatal visits, home visiting and support for your family and children
Y Provide free developmental activities and play ideas
Y Provide free screenings to monitor your child's development
Y Provide parent training, education and support
Y Create a Family Plan or an Individualized Family Service Plan (IFSP) that addresses the strengths and needs of the child and family
Early Intervention Services:
Sometimes children need a little extra help. Help Me Grow offers special services to children with a diagnosed medical condition or developmental delay.
This service is provided by the Lawrence County Board of Developmental Disabilities. Their Service Coordinators can arrange a comprehensive evaluation to determine if children need help seeing, hearing, talking, thinking, playing, or moving. These evaluations are at no cost to you, and we can help connect you with the services your child needs.



The first three years of a child's life are the building blocks for learning and development. Your child's education begins before he or she is born. Being a parent is probably the most important job you will ever have and sometimes it can be difficult.
For more information,
contact:
Lawrence County Early Childhood Academy is the Central Coordination Provider for Lawrence County.
Use the following contact information to make a referral for Home Visiting or Early Intervention services:
Lawrence County Help Me Grow
305 N. 5th Street
Ironton, OH 45638
Phone: 740-533-9077
Fax: 740-533-9477